< Back to news
Banyan Tree Group Property Sweeps Top Honours at Asia Pacific Property Awards with 5 Star Ratings and Regional Nominations
July 26, 2023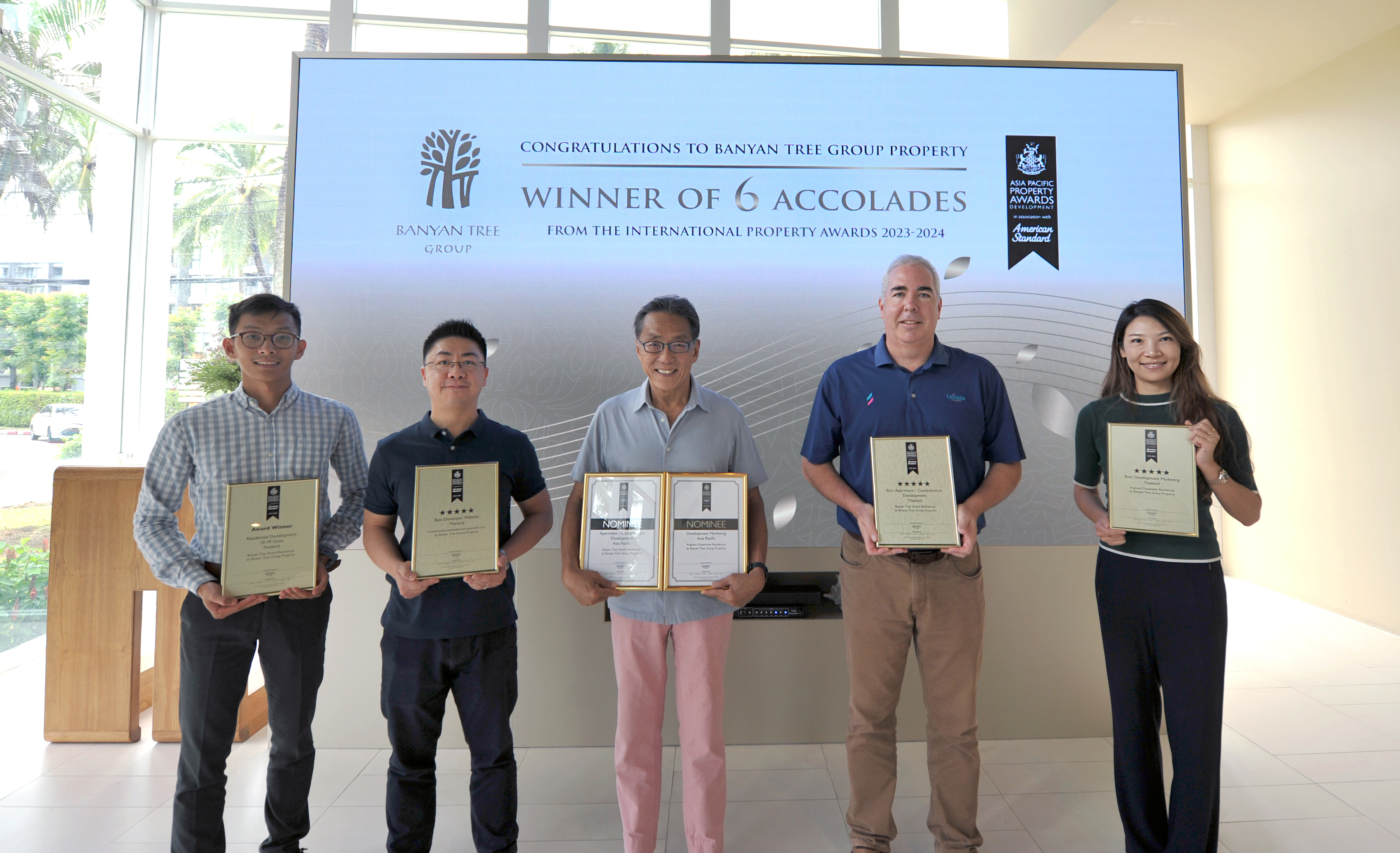 Banyan Tree Group : 42 Awards in a Decade Showcase Commitment to Excellence :
Excitinng Pipeline of Properties rom Affrordable Condominiums to Luxury Pool Villas
Phuket, 10 July 2023 – Building on previous years' successes, Banyan Tree Group has won several additional awards from International Property Awards, a competition run by International Property Media for 2023/2024. The accolades cement the developer as a powerful force in the Asia-Pacific region.
Banyan Tree Group Property became a 5-star award winner in three categories for three of its properties. Angsana Oceanview Residences won the Best Development Marketing for Thailand category, Banyan Tree Residences Creston Hill won the best Developer Website for Thailand, and Banyan Tree Grand Residences won Best Apartment/Condominium for Thailand category. Banyan Tree Group Property is also celebrating the regional Asia-Pacific nomination of Angsana Oceanview Residences and Banyan Tree Grand Residences Phuket for their respective award categories.
Banyan Tree Grand Residences Phuket scored a double with awards for Residential Development 10-19 units for Thailand and Apartment/Condominiums for Thailand.
"The awards are a testament to our efforts in building a vision in which we can all feel very proud. Our owners and investors recognise the timce, expertise and attention to detail that goes into every single thing we do and to be recognised by industry leaders is an achievement that we are eager to build on in the coming months and years.," said Mr Ho Kwon Ping, Founder and Executive Chairman on Banyan Tree.
"It's always rewarding to receive recognition from our peers as it shows we are continuing to head in the right direction in the pursuit of excellence."
Banyan Tree Residences Creston Hill received the Developer Website for Thailand award for 2023/2024 for its excellence in the category. The website developers created a stunning online representation of the project, which