< 回到新闻页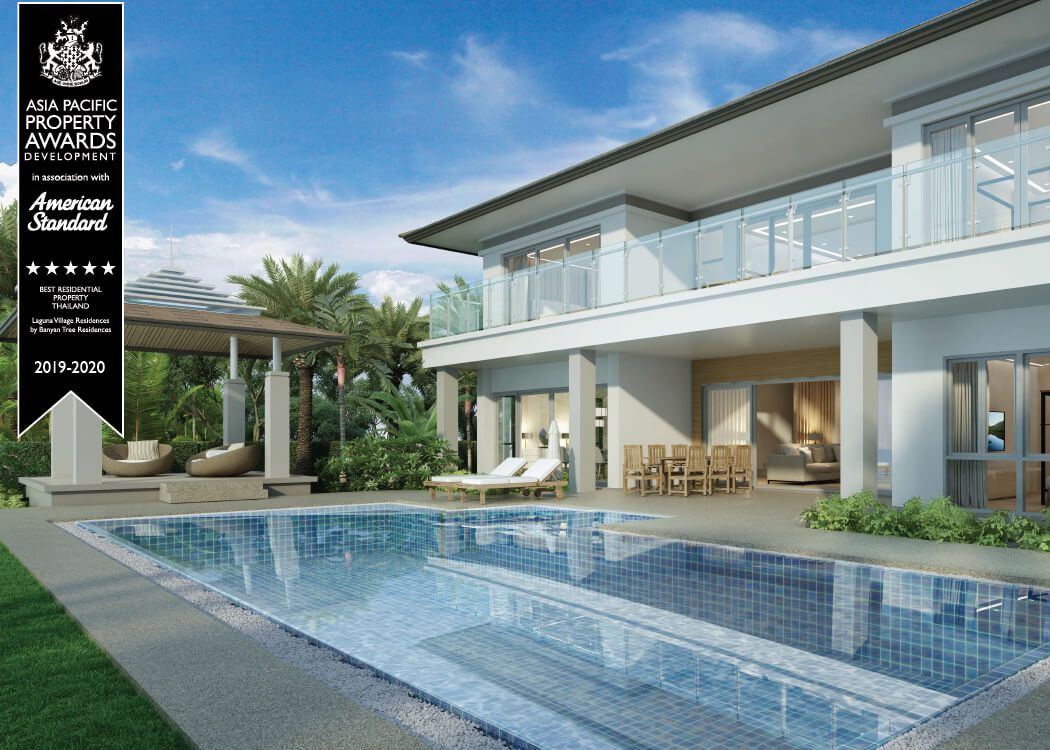 PRESS RELEASE: For immediate release
July 1, 2019
Banyan Tree Group scores a hat-trick at the International Property Awards 2019 Projects in Australia and Thailand recognised with prestigious accolades
Phuket, Thailand – Banyan Tree Group scooped three accolades for Banyan Tree Residences Brisbane and Laguna Village Residences at the latest industry-led International Property Awards conferred every year to celebrate the highest levels of achievement.
Laguna Village Residences, Phuket, Thailand Banyan Tree Residences Brisbane, Australia
Laguna Village Residences recently welcomed a new collection of lagoon-facing pool residences in Laguna Phuket, a 1,000-acre resort complex located on the tropical island of Phuket in southern Thailand. Banyan Tree Residences Brisbane is the New World City's first luxury branded residences and represents the group's first foray into Australia.
Banyan Tree Residences Brisbane won double recognition in the 27th annual International Property Awards, including Best Apartment for Australia and a 5-star accolade for Best Residential High-Rise Development for Australia. This is the second consecutive year the project was recognised with the Best Residential High-Rise Development for Australia award and sees this project nominated for the global finals later this year in this prestigious category.
Banyan Tree Residences Brisbane comprises 100 freehold private residences ranging from one- to three-bedroom apartments and four penthouses, spread out over 10 levels. In addition to its convenient location at the stunning Kangaroo Point cliffs and parklands, with views of the CBD, river and botanic gardens, Banyan Tree Residences Brisbane benefits from proximity to amenities such as leading schools and universities, hospitals, Southbank cultural and lifestyle precinct and the strong reputation of the Banyan Tree brand.
"Banyan Tree Residences Brisbane represents a major milestone for the group, and we are delighted with the overwhelmingly positive reception we've received from owner-occupiers. We've already sold close to half of the freehold private residences, and we look forward to starting construction in the near future. The landmark building will feature a striking exterior, which will be a fine addition to the Brisbane skyline," said Mr. Stuart Reading, Head of Property for the Banyan Tree Group.
The group also received a 5-star award for Best Residential Property for Thailand for Laguna Village Residences. The well-established Laguna Village Residences development is perfectly located within the heart of the upscale residential community in the award-winning integrated resort Laguna Phuket. Recently released and now under construction, the 16 new pool residences are set amidst palm tree-lined lagoons surrounded by landscaped gardens. The "Hybrid Chinois" design concept of the four-bedroom Laguna Village Residences draws inspiration from Phuket's rich cultural history and is characterised by a harmonising blend of Sino-Portuguese architecture and the warmth of a homely, modern lifestyle.
"For over 30 years, the Banyan Tree Group has earned a solid reputation for outstanding quality and service. These latest awards are really a testament to our team's hard work and dedication in maintaining the highest standards for our ever-growing family of homeowners in multiple destinations around the world," said Mr. Stuart Reading.